1. Bubble Braid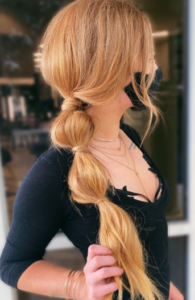 This easy style is great for an everyday look that can be done with a high pony or low. Simply add as many elastics as you would like and pulling the hair in between the elastics to create a billowed or bubble look. You can also wrap a section of the hair around the elastic and secure it with a bobby pin for a clean look.
Here's how:
Start by tying your hair into a ponytail. Do a high ponytail if you want more of a sporty look, or a mid ponytail if you want a casual look, and a low ponytail if you want a sleeker look.
Pull out any baby hairs and your fringe to make it feel more relaxed, or keep it tight if you want it to look neat and slick
Take another hair band and tie it a couple of inches further down your ponytail.
Using your fingers, tease the space between the first hairband and the second to loosen it into more of a bubble shape.
Keep repeating this step another couple of inches down your ponytail until you get toward the bottom.
Leave the chunk at the end loose to keep the braid looking modern
Tease each "bubble" once more to make sure you have the shape you want
2. Lose Side Braids
While learning how to french braid takes time once you've mastered braiding quickly, creating loose and romantic braids are simple and can be done to delay hair washing day.
Here's how:
Create three sections of hair
Begin doing a Dutch braid – instead of putting the outside section on top of the middle section, you put it underneath the middle section in a braiding motion. Think reverse motions of a regular braid.
Pull out each loop quite a bit to make the braid look thicker and looser. This creates the romantic large braid you see above.
3. Messy Bun
Messy bun and getting stuff done. CLICK HERE to watch Taylor's messy bun tutorial.
4. Barrettes and More Barrettes!
If we've learned anything from watching Bravo, it's that you can never have enough hair barrettes! Check out our hair accessory selection in our salon boutique!
5. The Pony Wrap
To elevate your everyday pony simply wrap your hair band with your own hair!
Here's how:
Create your ideal ponytail.
Take a 1.2 piece from the bottom side of your ponytail and wrap it around your hairband at least two times.
When the end of your hair section is back to the underside of your ponytail secure with a bobby pin or two.
Spray for an all-day hold and add a barrette!